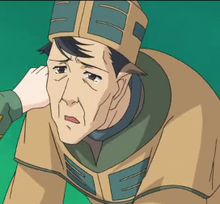 Ponahoi was a Lord of Elemui and after Noseshecika's defeat at the hands of Kunnekamun, was sent to Hakuoro to plead for his help. Urutorii agreed to mediate, causing Ponahoi to start crying. Her attempt was unsuccessful however, and Kunnekamun invaded Elemui.
Ponahoi was present as a group of Avu-Kamu attacked a town in Elemui, and he pleaded with Kunnekamun's troops to leave the civilians alone. He claimed he alone was responsible and that he alone should be punished, and that his people were guilty of nothing. Hauenkua instead said he would let Ponahoi go as his squad continued to kill all the people of the town.
Ad blocker interference detected!
Wikia is a free-to-use site that makes money from advertising. We have a modified experience for viewers using ad blockers

Wikia is not accessible if you've made further modifications. Remove the custom ad blocker rule(s) and the page will load as expected.