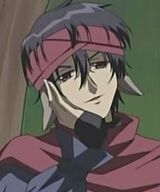 Suwonkas was the emperor of Na Tuunk. He is somewhat insane and extremely sadistic, with his throne room doubling as a water garden of special flowers grown on the bodies of humans. He was infatuated with Karura, who apparently castrated him in the past, an action that, oddly enough, he expresses gratitude for. He is killed by Derihourai during the slave's rebellion.
Ad blocker interference detected!
Wikia is a free-to-use site that makes money from advertising. We have a modified experience for viewers using ad blockers

Wikia is not accessible if you've made further modifications. Remove the custom ad blocker rule(s) and the page will load as expected.